Questions, or Concerns? We Have Your Answers!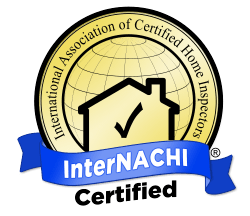 1. Do you carry errors and omissions insurance coverage?
I do carry error and omissions insurance through Farmers insurance company, but more importantly, we work hard to provide the most thorough home inspection possible so that we never have to use it. 
2. Do you also look at the grounds?
We absolutely look at the grounds for erosion & drainage since poor drainage can cause significant damage to the home. We look at trees, shrubbery and other growth that's close to the house to explore the possibility of getting unwanted visitors like squirrels, etc. 
Our mindset is that we want to look at any and all possible threats to the home over time. 
3. Do you inspect the roof or the roof (shingles etc)?
You bet we do!  Some home inspectors only make a visual spot check of the roof, but for us, that's just not good enough. The reason is that there are often problems with the roof that can be more structural (and costly down the road) that you simply can't see from a visual check. 
Our home inspectors climb on the roof and thoroughly inspect the entire roof. This means we not only look at parts where the water flows the most (chimneys, gutters, etc.) but we look for shingle as well as structural damage. 
4. What is the average time duration of inspection?
The average home inspection takes between 2 and 3 hours based on size and issues found. The time also depends upon the size of the home as well, but we have a time tested process that we go through with each inspection. Our process helps up catch issues that other home inspectors might miss. 
5. How many years of experience and certifications do you have? How many homes have you inspected?
I have been in business for myself for more than 3 years but I have more than a decade of experience before that as a professional handyman, I have extensive experience doing plumbing, and general contracting work.
At this point, I have inspected well over 1,500 homes and counting.
As for certification, I have the InterNACHI credential which stands for the International Association of Certified Home Inspectors. This is a fairly prestigious credential to have among home inspectors around Atlanta. 
6. Do you look for electrical or plumbing issues, foundation and drainage issues, and wood rot?
Absolutely! Each home inspection follows a thorough process where we look at each of the "systems" in a home. This certainly includes the electrical system, plumping and more. 
Every house shifts over time, but there are telltale signs of foundation problems that can be incredibly costly to repair. This is definitely an area we examine very closely. 
Looking for drainage issues or any signs of water damage is also part of our process. Water is the most destructive force on earth and we have the expertise necessary to see where there are current or even past water damage problems. Water damage is one reason for wood rot (beside termites) and we clearly look for both. 
These are all covered in the inspection and reported as seen. In most cases, we have all the details of our inspection in your hands within 24 hours after the inspection if not sooner. 
7. Do you check for lead, mold, or radon? Is that an additional charge?
Definitely! Mold damage is not only a threat to the structure of your home, but it's a health hazard as well. 
We check for current mold issues as well as evidence of previous attempts to repair mold damage. 
We provide Radon testing upon request. We also have the ability to provide lead testing as well but this depends upon the age of the house. We offer this testing at an additional cost of $70 per sample. 
8. What do you do if you find a major problem?
First off, you could say that every house has issues, so what may be a major issue with one potential homeowner may not be a big deal to another. 
This is why we simply inspect the home and provide the information we see. There is no effort on our part to sway your decision to buy or not buy the home. We don't think it's our place to be involved in that way. 
With each home inspection, our goal is to simply provide you all the information you need to make an informed decision about the home. 
Champion Home Inspection
Let us help you find your way home.
Our Address:
2041 Huncliff Drive
Lawrenceville, Ga 30043
Phone:
Our Mission
Our goal is to partner with our clients and referral sources to give them as much information from a home inspection as possible to make informed decisions about their purchases.